Vertical Pressure Leaf Filter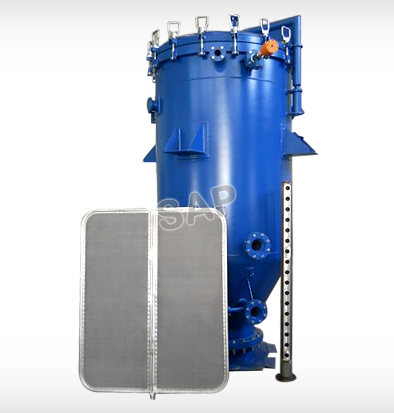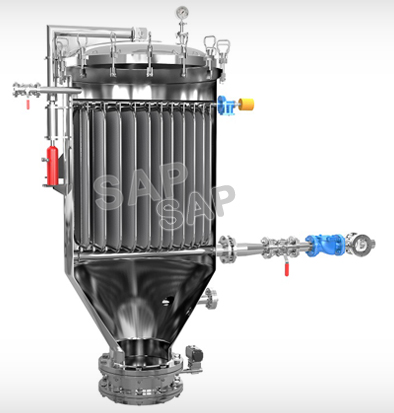 For filtration of liquids with solid content up to 5 to 7% in edible oil, chemical, food and pharmaceutical industry.
Areas up to 142 M² with dry or wet cake discharge.
Applications

Description

Special Features
Edible Oil Industries
Bulk Drug Intermediate
Speciality Chemicals and fine Chemicals Industry
Agro Chemicals
Food Industry
Resin & Paint Industry
SAP Pressure Leaf Filter is the product of most modern proven technology. This Filter is used extensively in various industries all over the world. The traditional Filter being used in Indian Industry is the bulky plate and frame type Filter which has high frequency of replacement of filter cloth, requires large manpower for handling, results in dead losses and makes the complete process house messy and dirty. The Pressure Leaf Filter is the most simple, economical and efficient in operation, does not need any cloth, and manpower for operation and being an enclosed systems, keeps the Process House Clean.
SAP Leaf Filter is vertical vessel comprises of filter leaves vertically mounted on manifold for carrying filtered liquid. The filter leaves are stainless steel wire mesh on either side with SS Channel on the periphery, thus providing large filter area in relatively small vessels. To facilitate the discharge of cake, large size bottom outlet valves provided. The filter is equipped with Pneumatic Vibrator.
Filter Cloth not required
Saving in Labour Charges
No Moving Parts
Very Low maintenance cost
No loss of liquid in filter cloth
Easy in Operation
Simple & Sturdy Construction
Complete enclosed system
Saving in space requirement & structural cost
No mess in cake discharge
No wastage of steam in cake drying operation
Totally indigenous
© Copyright 2018. SAP Filter Pvt. Ltd.